News
November 2012
15.11.2012
Spreading innovation from Kharkiv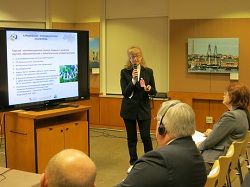 Nov. 12, 2012, 7:03 p.m. | Business — by Annabelle Chapman | KyivPost | http://www.kyivpost.com/content/business/spreading-innovation-from-kharkiv-315987.html
The U.S.-backed "Kharkiv Innovation Platform" wants to become a meeting point for science and business.
Increasingly competitive markets are pushing cooperation between business and academia ever further. Companies need innovation to stay on top of their game while educational institutions stand out thanks to their complex – and expensive - research. In Ukraine, however, otherwise talented scientists often lack the entrepreneurial skills and support to fully capitalize on their work. This is where American know-how and funding can be of help.
This is the idea behind the "Kharkiv Innovation Platform," launched on Nov. 6 at the U.S. Embassy in Kyiv (merrily decorated for the American election that night). It is funded by a grant from U.S. State Department, in partnership with Ukraine's state science and innovation agency. Although the platform's base is Kharkiv, eastern Ukraine's main education hub, it targets the entire country.
The platform is the brainchild of CRDF Global (http://www.crdfglobal.org), an independent non-profit organization founded in 1995, promoting international scientific and technical collaboration worldwide. It is based in Arlington, Virginia with offices in Moscow, Russia; Kyiv, Ukraine; Almaty, Kazakhstan; and Amman, Jordan. Ukraine is of the leading partners of CRDF Global. Since 1996, CRDF Global committed over $13,7 million in funding and awarded more than 600 grants for Ukrainian researchers.
Starting in September, the platform initiated a two-part program running 2012-2014. A cohort of Ukrainian scientists will learn how to commercialize their research, leading up to a certificate from the University of Texas in Austin which developed the training. The platform includes the courses on such issues as commercialization and development of innovative ideas, taught through 10 online modules over a period of 4-6 weeks.
Innovation is like a rainforest, explains Irina Mitchell, program manager at CRDF Global. Different types of actors exist interdependently alongside one another. To succeed, scientists need to work with companies, state agencies and NGOs. Ukrainian scientists are well-educated, but they tend to undervalue themselves, she says. Above all, her organization aims to equip scientists with the confidence to make innovation a self-driven process. The legacy of Communism means that it is often directed from above, by state or faculty agendas.
Yaroslav Voitko, policy manager at the American Chamber of Commerce in Ukraine, says his organization would be happy to work with the project, for example by hosting networking events. "Let them get started, and see where it goes," he said, commenting on the launch.